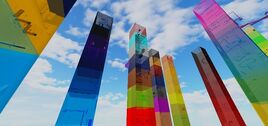 Welcome to the Jupiter's Towers of Hell Wiki
Welcome to the Jupiter's Towers of Hell Wiki! This is where you can find information about the towers in-game. As some rings require beating difficult towers (i.e Ring 3 requires 9 towers beaten so you can't just do easy towers only), a little help on this wiki would be appreciated.
Anyone can edit this wiki! There has been 67,372 edits to 345 articles on this wiki.
About Jupiter's Towers of Hell
Jupiter's Tower of Hell is a ROBLOX game that is a revived version of Kiddie's Towers of Hell due to the old owner deleting the game. In it, you climb up super hard obbies in order to progress through the games many worlds.
Link: https://www.roblox.com/games/2919924313/Jupiters-Towers-of-Hell
Game Updates
A secret has been added to ring 1 to enter past events!
Topics
Towers and Difficulties
Issues (Pages that need editing)
Latest activity
Community content is available under
CC-BY-SA
unless otherwise noted.